Lumen Printing at Dartington
Words by Lucy Ashford
Photos by Fathia & Loraine / Crescent
I recently joined Crescent Women's photography group to assist Fotonow's Community Photographer Emma Booth on a Lumen printing workshop. It was being held at the Dartington home of artist Sian Davey and run by artist/photographic storyteller Emma Stoner.
On our arrival, there were 12 ladies including myself, of all ages, some slightly hesitant, but all very keen to get involved. What ensued was a lovely, tranquil day of joy, spent mostly in the wildflower garden at the rear of the ancient house, teeming with flowers and bees feasting greedily on the late flowering blooms.
Emma introduced us to how Lumen printing works – by positioning flowers (or any other small items) delicately on the glass inside a frame, then placing a sheet of photographic paper over the top. The frame is then clipped shut and left in direct sunlight, ready for an image to develop.
After some welcome mugs of tea, we ventured out into the rambling, exquisite garden to pick flowers from the cacophony of colours that awaited us. Cornflowers, echinacea, giant sunflowers, borage, cosmos, dahlias and sweet peas blossoming in their abundant glory. We carefully selected petals, leaves and stems to use in our own design.
Gathering at the end of Sian's Garden, we then meticulously assembled our pictures on the wobbly wooden table, trying to stop the wind from blowing it away before we could shut the frame. We chose from the selection of coloured photographic paper Emma had brought with her, then closed our frames, ready for an intermittent sun to do its special work.
Sian had prepared a delicious lunch for us, which we ate in the front garden, overlooking a spectacular view across the Dartingon Estate. This was followed by an even more delicious pudding of homemade blackberry and apple crumble, with fruits picked from the garden and drenched in fresh cream.
After lunch Emma gave us a glimpse of some of her previous Lumen print works, before we returned to the glorious garden to reveal the achievements of our morning. Sian provided us all with more mugs of much appreciated tea, so we could sit and enjoy the serenity for a little while longer.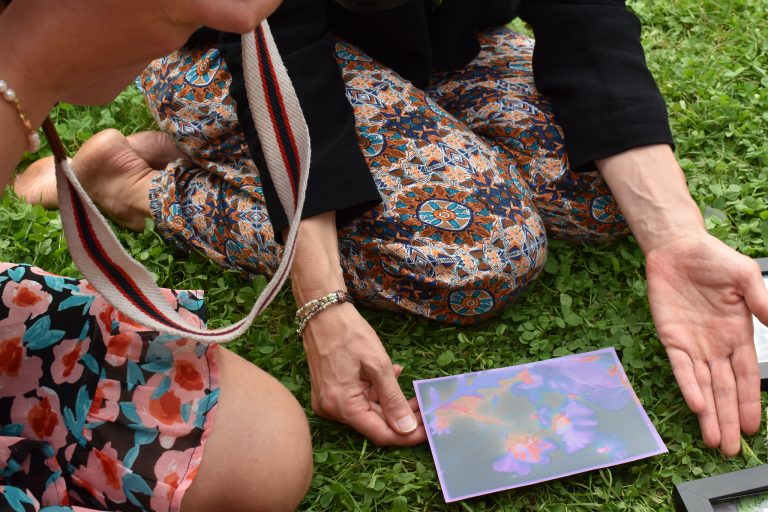 Surprisingly, despite the lack of sunshine, all our prints worked exceptionally well, and the results were beyond even Emma's expectations. She quickly took a photograph of each print as it was revealed and explained that they are 'ephemerals' so the image will not remain the same. Once it is exposed to more light, the colours will fade as the outlines of the objects alter.
We then had some time to wander the garden and take photographs of the flowers, and other secrets found within, before heading off. I'm sure we left the day all feeling slightly more at peace with the world, than when we'd arrived that morning.
31st August 2023
Lucy Ashford is a local writer and photographer and a 2023 graduate of our BA Journalism with Photography degree.
More about our Crescent women+ photography group.